Subscribe with us your adoption of a Lemon of Amalfi!!!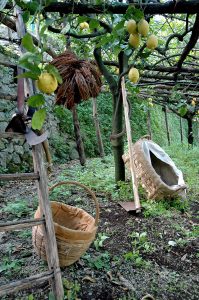 Adopt a Lemon Tree of Amalfi of our Gardens from organic farming and you will adopt a country and its culture and nature.
Follow us throughout the year in our efforts, a thousand steps, along the slopes of the hills to the sea. Follow us in our hard work of Organic and Sustainable Agriculture and Enviromental Protection.
With the subscription you will receive a Certification Adoption and a package containing:
1 bottle of Limoncello. Lt .0,5
1 bottle of chocolate liqueur with lemon
1 jar of lemon honey gr. 475
2 free entrance for our Lemon Tour
The adoption of a lemon tree involves an annual cost of € 100,00 by bank transfer payment.
The bank transfer must be done on:
BANCA POPOLARE EMILIA ROMAGNA – AMALFI AGENCY (SA) ITALY
IBAN: IT53Y0538776030000001427965
BIC: BPMOIT22XXX
After the Bank transfert has been done send a copy of it with your personal particulars to the email address: info@amalfilemonexperience.it